Have you received positive reviews when you deliver on time? Isn't that feel good to provide quality services? Even Consumers appreciate it. Well, to always complete your eCommerce fulfillment on time and provide valuable services to your customers, make sure your order fulfillment process goes well.
The order fulfillment process is a crucial factor in deciding customer satisfaction. Hence, to appease your customers, you should implement an effective order fulfillment strategy. But, do you know what it is? And how to implement it? Not to worry, here's an article describing the ins and outs of the order fulfillment process with the best strategies.
Fulfill your orders effectively with Fulfillment Hub USA!
Fundamentals of Order Fulfillment Process
In today's digital era, consumers are becoming more impatient than ever. In a survey conducted by Digital Commerce 360, 44% of consumers who didn't complete the purchase said they canceled the order because the product wouldn't arrive on time. Hence, your order fulfillment process has to be optimized to deliver on time.
By optimizing the process, you can speed up your shipments and order accuracy. This leads to less waiting time, which means happier customers and more orders and revenue generation for your business. Notably, the order fulfillment process is the backbone of any eCommerce business.
What is Order Fulfillment?
Order fulfillment is a process that includes a sequence of steps from receiving the order from the customer to getting the product delivered to them. It determines the delivery time for the consumers as well. Likewise, it decides how well a company can deliver in terms of quality.
Companies should always opt for optimizing the order fulfillment process. Because according to Statista, only 34% of consumers are willing to wait more than two days for an order to be shipped and delivered. Hence, you should optimize your eCommerce fulfillment at every stage to retain customers.
Process of Order Fulfillment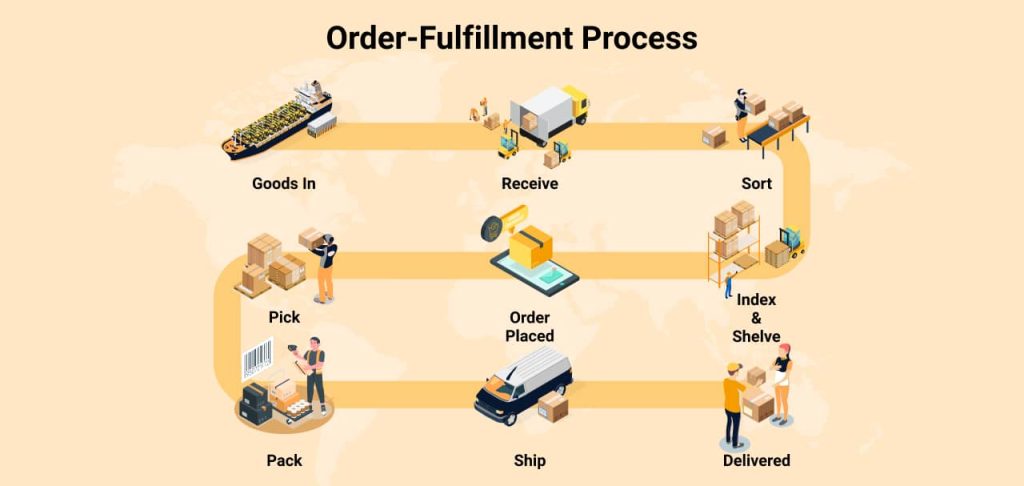 There are five primary functions in the order fulfillment process. All the steps involved are completed at a fulfillment center or warehouse. The order fulfillment process is as follows:
Goods in: Merchants or fulfillment centers receive inventory.
Warehousing: After the inventory is received, it is indexed and strategically placed in the warehouse for sale.
Pick and Pack: The product desired to fulfill the order is picked, assembled if needed, and securely packed.
Shipping: The parcel is dispatched to the customer via a reliable shipping carrier.
Returns: If there are returns, the order is processed in the same manner at the fulfillment center.
A smooth and integrated order fulfillment process works best for all parties involved. Unfortunately, this process can be complex and expensive. However, there are ways to save money on eCommerce fulfillment. But before that, let's figure out why optimizing this process holds so much importance for any eCommerce business.
Importance of Optimizing Order Fulfillment Process
In today's continuously expanding eCommerce era, consumers are used to quality services at an affordable price. Quality services include premium product quality, timely delivery, proper returns management, and empathetic and helpful support.
When your order fulfillment process isn't consistent, you may struggle with timely delivery, which negatively impacts your business. To clarify, the State of eCommerce Delivery found that 43% of shoppers abandon a seller because of a negative delivery experience. Therefore, optimizing the order fulfillment process for timely and quality delivery is essential to sustain your eCommerce business.
The way you fulfill an order affects your customers' buying decisions. They want delivery and payment methods that suit their needs. Therefore, it is better to analyze your customers' expectations and needs beforehand. This analysis can help you gain a competitive edge in the industry.
Apart from making customers happy, there are other benefits of enhancing your eCommerce fulfillment. When you optimize your order fulfillment process, you can:
Focus more on selling
Enhance customer services and support
Reduce operational costs
Expand your reach globally
With all the benefits of optimizing your order fulfillment process, you take a step ahead of your competition and set up and scale your business for success.
Types of Order Fulfillment Process

The order fulfillment process is an important component of the supply chain process. There are four types of order fulfillment:
In-House Fulfillment
There's a way to fulfill orders where your employees complete the order fulfillment process. It is known as in-house fulfillment. When you do everything in-house, you manage every process by yourself, whether it is managing inventory or delivering products safely.
While this method gives you complete control over every step, the risk of mishap occurrence increases, and you get less chance and time to scale your business. Therefore, this method is best as a low-cost option only for businesses starting out and established companies with end-to-end control over every operation.
Third-Party Fulfillment
In third-party order fulfillment, a third-party logistics company (3PL) manages your inventory, packs products, and ships them for on-time delivery to your customers. There are different plans a 3PL offers, and you can opt for services you need according to your business requirements.
Remember, when you outsource fulfillment, you outsource your worries of timely delivery, quality service, and returns management to the fulfillment center. Fulfillment Hub USA is tech-driven to help you scale your business to the next level. In addition, we offer fulfillment services at an affordable price. Contact our experts to know more.
Dropshipping
When you dropship, you outsource your order fulfillment process similar to third-party fulfillment, except there's no inventory to manage. In this method, you order the products from the supplier or manufacturers when an order arrives. The supplier handles all your orders and ships them to the customers, and sellers are only charged for the products they sell.
Another difference is the third-party fulfillment company doesn't take ownership of the products while the supplier or manufacturer owns the products. Dropshipping is a preferable choice for many eCommerce and startup retailers.
Hybrid Fulfillment
This option is best for companies that need more flexibility or is undergoing rapid expansion. In this method, a company uses a mix of the above-mentioned order fulfillment options. It can be implemented in different ways: a company may process the highest selling products in-house while outsourcing or dropshipping fewer selling products. Alternatively, a company can outsource inventory stocking to a fulfillment center and shipment to other carriers while handling only product assembly or packaging.
Challenges of Order Fulfillment Process

As you know the importance of the order fulfillment process, you also have to consider its challenges. It is not always easy to implement an effective order fulfillment process. There are many challenges that eCommerce fulfillment has. Here are some of them:
Wrongly Picked Order
When a customer receives a product different than what they have ordered, it creates a negative impression of your brand in their mind, and they are less likely to come back again. Wrongly picked order is a human error that can happen at any time with anyone. To prevent this, automating tasks for the order fulfillment process is the appropriate solution. Make use of inventory management systems and software to eliminate human error.
You can also set up a strict quality control process and rules to review orders before sending them out to customers.
Inventory Management
When you fall short of the stock, you lose customers. No one would like to see the product as 'out of stock' after they have ordered. To prevent this, set up a reorder point for the products. You can also decide on a maximum threshold to avoid overstocking. Moreover, perform regular inventory audits to identify inefficiencies in the system.
A real-time inventory management system can also help you stay updated with your inventory and provide you with all the insights you need to plan effectively. Fulfillment Hub USA offers a 5-in-1 cloud-based software that enables you to manage inventory, track order fulfillment processes, forecast demands, plan effectively, and more. Connect with our experts to know more.
Slow Shipping Time
We have already stated that 44% of consumers said they canceled the order because of slow shipping. It becomes challenging to adhere to these needs of customers when you are processing all the orders manually. There's always a risk of human errors that can make you lose your customers.
To prevent this, automate your order fulfillment process and partner with the best shipping carriers across the globe. A lot of them offer various discounts and coupons if you order in bulk. Then, you can pass on those deals to your customers and gain an advantage over your competition.
Multichannel Fulfillment
Having multiple online and offline stores adds a new level of complexity in balancing the equation of optimized order fulfillment. In addition, when orders are coming from various platforms, the chances of wrongly picked orders and delays increase.
To curb this, implement a centralized system to manage orders from all platforms along with real-time updates. Furthermore, there are multiple software in the market that enables you to manage everything with ease.
Strategies to Optimize Order Fulfillment

The level of competition in the eCommerce industry is immense, but that doesn't mean you don't stand a chance. Optimize your order fulfillment process and serve the best to your customers. However, always remember there's no one-size-fits-all strategy. Hence, choose the one from the below-mentioned strategies that suit your business the best. Lets' dive in.
Find Which Model Works Best for You
There are various ways to optimize order fulfillment: in-house, third-party, dropshipping, and hybrid. Find out which one works best for your business. The model you choose also depends on the size of the company and the number of orders you process every month.
Low order volume makes in-house fulfillment the best option for you, while third-party fulfillment is best for businesses looking to expand quickly.
Location of Your Warehouse and Micro Warehousing
The location you ship your products from matters a lot. It is an essential aspect of your eCommerce fulfillment strategy. Customers want product delivery to be rapid at an affordable price. To ensure that you deliver as per your customers' expectations, try to minimize the stops your package takes from your warehouse to the customers' location. This way, the shipping charges reduce, leading to happier customers.
There are various fulfillment centers that have strategically placed their warehouses at multiple locations to reduce shipping time and cost. This method is known as micro warehousing. Consider placing your inventory in various warehouses according to the destinations as it is an economical choice.
Enhance End-to-End Supply Chain Visibility
End-to-end supply chain visibility refers to monitoring the process from receiving the products to shipment. With real-time tracking, this transparency in the supply chain helps both seller and manufacturer stay updated and plan ahead of time.
Transparency in the supply chain improves post-shipment customer service and customer satisfaction. Hence, integrate with your suppliers so you can keep a tab on the day-to-day operations, and in exchange, suppliers can stay updated about the restocking.
Communicate With Your Warehouses and Customers
Clear and direct communication is always vital for a smooth process. Ensure your staff is doing their daily tasks efficiently and according to the guidelines. Keep tabs on what your suppliers are up to for your products.
When communicating with your consumers, ensure a proper channel and set the tone according to your business. Share shipment tracking information with them, and 'Thank you for your purchase' e-mails always help build long-term relationships with your customers.
Maintain Inventory Accuracy
Inventory accuracy is critical for the health of warehousing operations. A real-time inventory tracking system always helps maintain inventory accuracy, and you save your customer from ordering an 'out-of-stock' product, which also protects your brand image.
A successful inventory management solution should always cut down on unnecessary stock and save you from going out of stock. Moreover, updated inventory sorting and indexing are important for the picking process, making the complete order fulfillment process faster.
Slotting Optimization
Slotting optimization is the process of sorting inventory in the warehouse in such a way that it expedites the picking process. One effective way to do this is to keep popular items near the shipping areas to speed up the order fulfillment process.
There are various ways to place the inventory in the warehouse strategically. You can sort it out based on size, weight, use, category, or in some cases, temperature. It is better to place temperature-sensitive products in one place and more fragile items in the most secured section of the warehouse.
Smart Warehouse System
Automated warehouse management systems are becoming extremely popular these days. These systems utilize several interconnected technologies to boost efficiency, accuracy and reduce human errors.
Smart warehouse systems manage inventory, track packages in multiple warehouses, break down bills and update you about the inventory in real-time. Moreover, it helps you predict demand with the help of detailed analytics. Therefore, implementing a smart warehouse system is an effective strategy to fast-forward the growth of your eCommerce fulfillment.
Partner With a Tech-Driven 3PL
Let's be honest, implementing a tech-integrated warehouse management system, and partnering with multiple warehouses and shipping carriers around the globe can put a dent in your budget. Hence, it is always a better idea to outsource your worries about managing fulfillment operations to a third-party logistics (3PL) company.
They are tech-integrated to make your order fulfillment process easier. Their warehouses are strategically placed to reduce shipping costs and fasten delivery. Moreover, they partner with various shipping carriers to get you discounts and offer quality services. One such leader in the industry is Fulfillment Hub USA.
Optimize Your Order Fulfillment Process with Fulfillment Hub USA
Outsourcing your e-commerce order fulfillment process to a reliable fulfillment center like Fulfillment Hub USA has many benefits. Along with getting the advantages of a tech-integrated fulfillment center, you will benefit from our expertise and experience in the industry. Here are some benefits of partnering with us:
Dedicated Time for Growth
When you outsource your order fulfillment process, you transfer your stress to your fulfillment partner. We are responsible for inventory management, picking, packing, shipping, delivery, returns, and many more.
You only have to send us the inventory, and then you can easily shift your focus towards scaling because we take care of the rest. Partnering with us allows you the time to focus on your marketing, strategy, forecasting, and everything that helps your business grow.
Save Money
E-commerce Shipping is getting costlier with the ever-increasing demand in the industry. As we process a massive volume of orders every day, we have negotiated charges with multiple shipping carriers around the globe. The benefit for you is, discounts that we receive are trickled down for you, saving you sufficient money.
Tech-Upgrade
A savvy fulfillment center has all the tech tools you might not invest in when you are starting out or even after a few years of being in business. We invest heavily in tech to make the user experience smooth and add quality and benefits to their customer services. If you partner with us, you get countless advantages, and your order fulfillment process becomes smooth.
Improved Flexibility and Endless Opportunities
Some things are meant for pros. We provide you with tons of new opportunities. When you partner with us, you save a lot on shipping costs and don't have to worry about customs, duties, formalities, and international taxes. In addition, there are many other benefits you can avail of, such as expedited international shipping, discounts from shipping carriers and merchants, and many more.
We take care of all of these and many more for you. Moreover, we offer customized services based on your business requirements.
Happier Customers
Communication and timely support are the game-changers. We have excellent customer service and provide better services to your customers. Hence, when you partner with us, you, along with your customers, receive quality, empathetic, and timely support with best-in-class services.
Reduce Errors and increase transparency
When you manually share data for your orders, there's a high probability of errors or misinformation. In addition, it can lead to returns, exchange, replacements, and costly shipping. This is time-consuming, expensive, and can burden your customers, hampering your brand image in the process.
Our 5-in-1 cloud-based software provides you transparency as there is an interconnection between all the systems and fewer chances of human errors. In addition, you can view what is happening and how accurate your order fulfillment process is with the feature of real-time updates.
To Conclude
The order fulfillment process is a vital part of an eCommerce business. Hence, there should be proper strategies to ensure that the process is flawless. The strategies mentioned in the article, if implemented correctly, can do wonders for your business and make your order fulfillment process smooth.
Make sure to check every nut and bolt before you make changes to your business model. Connect with our experts for guidance and ensure that you are implementing the right solutions for your eCommerce fulfillment.
FAQs
What is logistics fulfillment?
Logistics fulfillment means completing the logistical process from checkout to the delivery of the item. This term is often interchanged with order fulfillment.
What is the order fulfillment rate?
The order fulfillment rate is an efficiency measurement and is also known as the order fill rate. It is calculated by dividing the number of orders already processed by the total number of orders.
Order Fulfillment Rate = Total number of orders processed / Total number of orders
What does it mean when an order is in fulfillment?
An order is in fulfillment means it is still being processed and not yet shipped. The process is completed when the customer receives the order.
What is the order fulfillment process?
The steps a business takes from procurement to product delivery is the order fulfillment process. It includes receiving inventory, storage, order picking, packing, shipping, delivery, and managing returns.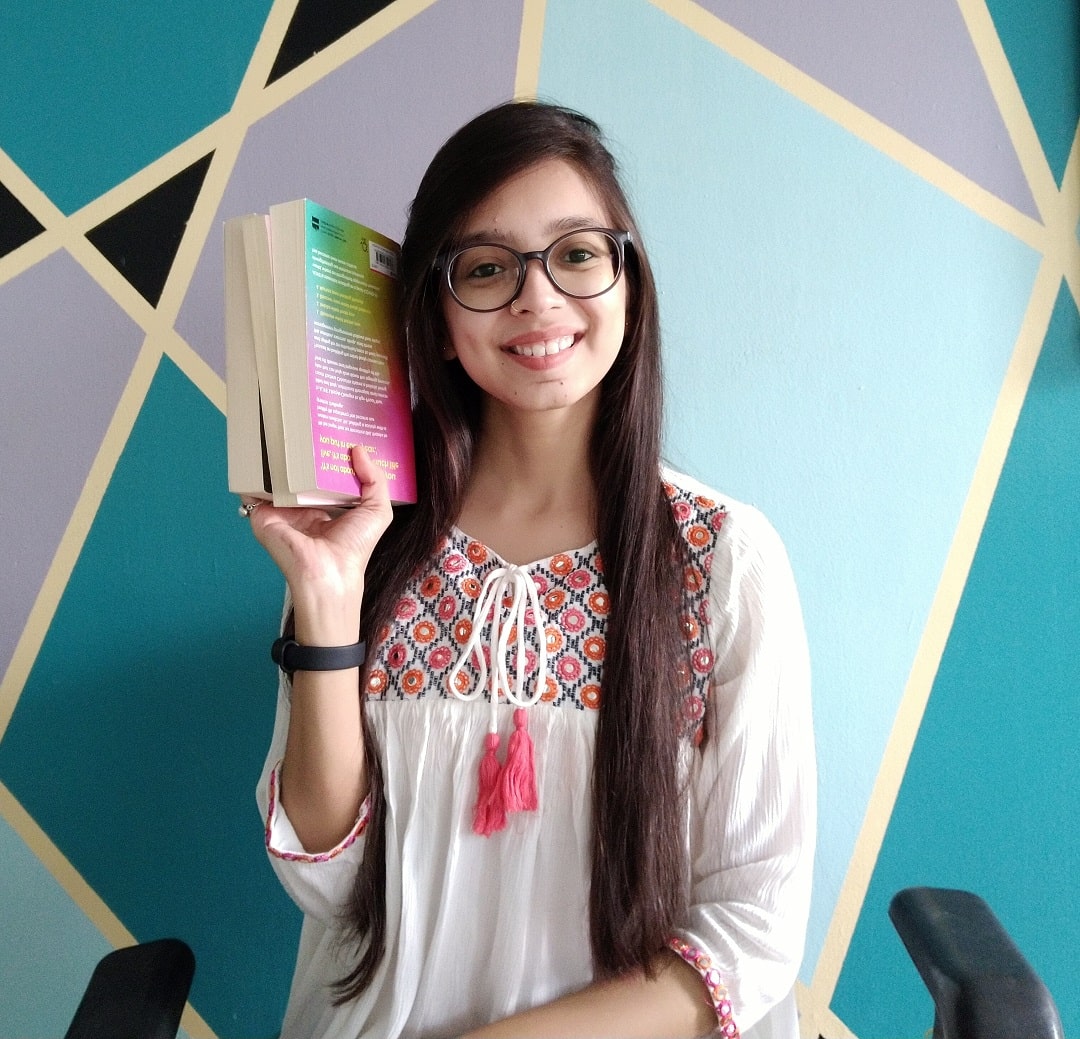 She is an avid reader turned content creator. She has over 4 years of experience in writing B2B and B2C website content, articles, and social media content. She has worked with different types of content; from tweets to full-fledged video scripts and privacy policies. Apart from reading and writing, she connects with plants, travelling, and psychology.