Warehousing is an inextricable part of the retail supply chain. It might not sound like an appealing topic, warehousing remarkably affects everything in a business from sourcing materials to managing inventory to on-time delivery of orders to the customer.
If you are new to the business world and want to know more about warehousing, you are at the right place. Here is an article with all ins and outs of warehousing to help you better understand warehousing services and their role in running a business.
Wait.. Your all-in-one warehousing solutions are here.
Ins and Outs of Warehousing
In the past few decades, the demand for warehousing services has increased significantly. According to a report published by Statista, the number of warehouses alone in the US has increased from 15,152 in 2010 to 19,190 in 2020. These figures reflect that the warehouse space demand in America is marching towards a better future.
The principles and concept of warehousing have not changed a lot over the years; however, warehousing services and solutions have revolutionized remarkably. With urbanization, advanced technologies, and the rapidly growing world of online shopping, warehousing has become a hot topic.
Note – If you are looking for warehousing solutions, contact us right now.
What is Warehousing?
Warehousing refers to the process in which you purchase items from a manufacturer and store them before shipping them to any other place for fulfillment. You can store these goods or items in a spare room, or other facilities, but for better management, it is always a good idea to use warehousing services for storage.
To succinctly describe, warehousing is actually the procedure of storing the merchandise before selling them or transferring them to other fulfillment locations. Warehousing services help to safely store merchandise and monitor all the items using advanced technologies.
Warehousing depends on how many goods you need to store or the size of your business. If your business is small, you can do warehousing from home, but if the business is bigger you would need to use a bigger storage space or rent a 3PL warehouse or use fulfillment warehousing services.
In the case of e-commerce, people store items until an order is placed and then it is shipped directly to the consumer from the warehouse. In traditional businesses, products are stored temporarily in a warehouse before shipping them to the offline or brick and mortar store.
Types of Warehousing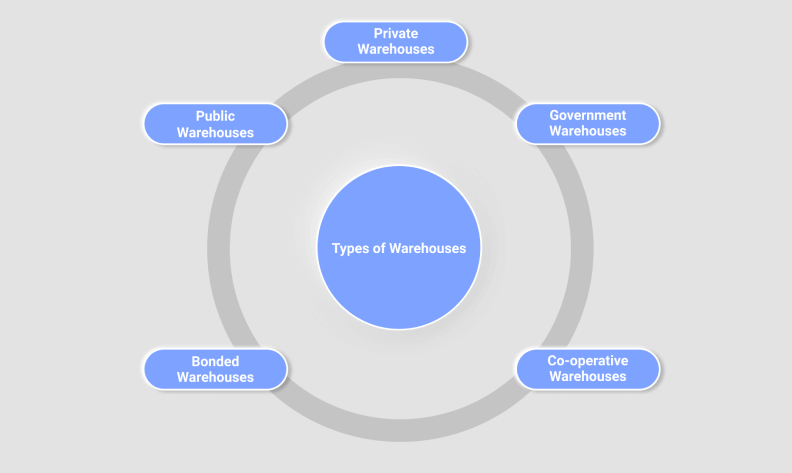 When people think about warehousing, the first thought that comes to mind is a cold, dark, and dusty building full of racks and crates. However, actually, the warehouses are clean, bright, technically advanced places, and help to keep an economy moving. According to a report published by Statista, in 2020 the warehousing sector contributed around 85.58 billion US dollars to the GDP of America. The data clearly shows that the demand for warehousing services is high and will continue to grow with the increasing craze of online shopping.
There are different types of warehousing that come in different shapes and sizes including:
Private Warehouses
The private warehouses refer to a storage facility that is usually owned by a single manufacturing unit or larger companies to store and ship their merchandise. This type of warehousing service is also known as proprietary warehousing. It can be operated as a separate division in an organization or company. These warehouses also work like distribution centers of finished merchandise.
Public Warehouses
Public warehousing services are usually businesses that offer long or short-term storage solutions to businesses and companies on a monthly basis. Other services offered by public warehouses include inventory management, warehouse shipping, and physical inventory counts. In short, public warehousing includes commercial inventory space that is available for rent.

Distribution Centers
A distribution center is a specialized storage space that often comprises air conditioning or a refrigerator. It is used for receiving merchandise, temporarily storing goods, and distributing them according to received orders.
People often think that warehouses and distribution centers are the same things, nevertheless, it is not true. The major use of a warehouse is to store merchandise; on the other hand, a distribution center offers other services also like storage space, order fulfillment., packaging, and much more.
Co-Operative Warehouses
Co-operative societies own the co-operative warehouses and they are responsible for controlling and managing them. These societies offer storage facilities at affordable rates to their members. The main purpose of these warehousing services is not to make a profit but to help the community members.
3PL Warehouse
A 3PL warehouse is one of the most popular warehousing services that offers end-to-end e-commerce fulfillment services. The services include receiving, order processing, warehousing, shipping, and more. That's not it. Many 3PL warehouse service providers also render other amazing services such as returns processing, customization, and customer support.
Primary Elements of Warehousing Logistics

Warehouse Management
When it comes to providing warehousing services, it includes a lot of operation. In order to keep everything smooth and functioning, good warehouse management is a must. Warehouse management refers to the day-to-day running of operations in a strategic way at the warehouse to promote, enhance, and ensure top-notch operational quality.
Managing a warehouse includes taking care of all inventory, staff, security, safety, and managing relationships with the merchandise. Below mentioned are the primary roles and responsibilities of warehouse management.
Managing projected labor and merchandise
Ensuring adequate safety gear
Getting proper certifications and license for people using operating equipment
Managing operations properly as the business becomes more complex as it grows
Giving proper instructions about receiving, unpacking, retrieving, and shipping packages
Keeping records of all outbound and inbound shipments and assembling proper documentation.
Warehouse Management System
WMS or the warehouse management system is a type of software that renders required tools to manage inventory movement and warehouse operations. It helps to save a lot of time by eliminating time-consuming manual processes.
A good warehouse management system helps to optimize tracking, inventory, distribution of workload, and shipping. It offers unparalleled real-time insights and visibility into everything happening at the warehouse.
Warehouse Operations
Warehouse operations include tracking inventory and goods. The main principles of warehousing include receiving inventory, managing SKU, and forwarding products to the next destination. Appropriate warehousing operations can help to:
Keep overall costs low
Boost staff productivity
Manage in-time receiving and shipping of inventory
Enhance customer satisfaction
Keep proper stock
Role of Warehousing in Ecommerce Management
Whenever you order something online, it comes to your doorstep. However, before that most of the parcels are stored at the warehouse. Businesses use logistics to deliver orders to customers and manage the flow of goods. Warehousing services play an essential role in the smooth operation of e-commerce. Here are how warehouses help in e-commerce management.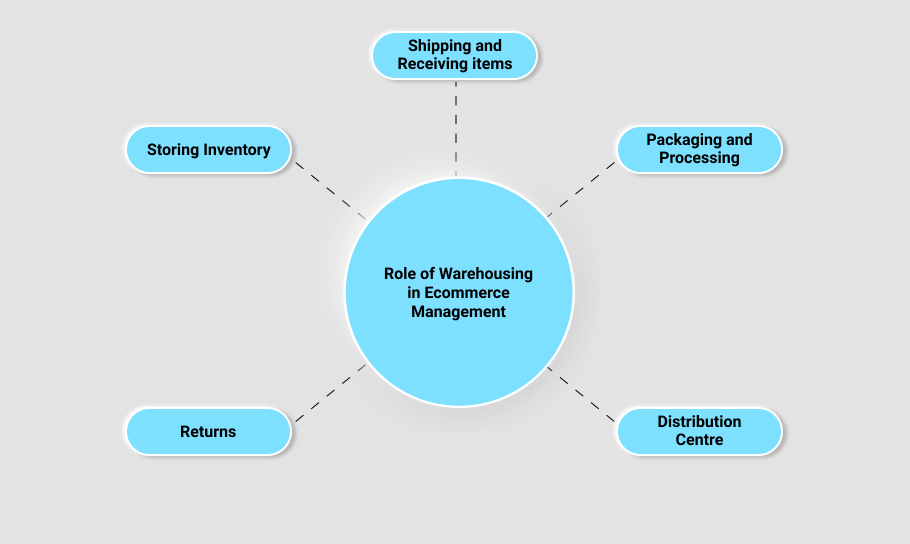 Shipping and Receiving Items
Businesses hire warehousing services to store inventory. They send their products to the chosen warehouse where they are received, stored, and arranged in an adequate manner. It helps to ensure the smooth running of the operations. Moreover, the operations in warehousing should be optimized in a manner by knowing which merchandise is arriving and how many units are present in each merchandise.
In order to transport the merchandise again to the next destination, shipping carriers like USPS, UPS, or DHL are used. It is best to use 3PL warehouses for e-commerce businesses as it helps to manage the smooth flow of the inventory.
Storing Inventory
It refers to keeping particular products in specific locations. Each merchandise in a warehouse should have its SKU and its own storage place. Adequate warehousing and storage help to:
Pinpoint the exact place where any item is placed in the inventory
Keep proper count of the units present in the warehouse as compared to the units listed
Respond satisfactorily to the recalls for products, damaged items, and expired items, by knowing which products in the warehouse are affected and where they are placed
Ship out the older products and items before shipping the ones that are new
Distribution Centers
Distribution centers are like warehouses and bigger companies with both online and offline presence use them for managing inventory storage. These types of centers are best for short-term usages until there is a need for the products. From here, the products are directly sent to the wholesalers, consumers, or retail locations. The biggest advantage of distribution centers is that they are demand-driven. Here the products move in and out faster with trucks constantly picking up and dropping off merchandise.
Returns
Warehousing logistics include being ready for returns, specifically when there is a lack of in-store return options. Warehousing services should be able to receive, evaluate, and process all the return items. They should also provide prepaid return labels, refund information, and return tracking information to make the return process hassle-free for the customers.
Tips to Consider when Choosing a Warehousing Solution
When you google warehousing services, you get a wide range of options making it difficult to choose the best one. Below mentioned are some tips to consider when choosing warehousing services and solutions for your business.
Seasonality of Your Business
Seasonal fluctuations in demand and supply chain of products add complications in warehousing logistics. In case your sales fluctuate monthly or seasonally, leasing a warehouse or space for your business can be expensive during the off-season. Moreover, you may face a shortage of space during peak seasons and holidays.
Therefore, handing your logistics and warehousing to a reliable partner like Fulfillment Hub USA can help you avoid extreme situations and manage the business smoothly.
Number of SKUs
Stock Keeping Unit or SKU helps to manage and track the movement of inventory. Moreover, it helps to calculate the possible storage fees and space required in a warehouse. Make sure to turn inventory rapidly by fulfilling orders as soon as possible. It means to restock the inventory often enough to keep up with the demand and avoid high logistics and storage costs.
In case you are not making a lot of sales but have a large amount of inventory, then it would be better to opt for warehousing services and avoid fulfillment services with separate fees for warehousing, storage, and receiving and shipping merchandise.
Warehouse Location
The location of the warehouse depends on the needs of your business. If the main aim of your business is to store a lot of items in bulk for a long period of time, then it is better to find a rural location. If you want to deliver your orders to the customers as soon as possible then it is better to opt for a fulfillment warehouse near the shipping destination of the customers.
It is always a good idea to opt for warehousing services in big cities or urban areas, as it helps to deliver orders to a large population quickly. Moreover, it helps to meet your customer expectations like expedited shipping or fast shipping by reducing the time in transit or distance traveled. In case your customers live at different geographic locations, it is better to opt for a warehouse centrally located. It can help you to reach more and more regions efficiently.
Number of Warehouses You Use
As the business grows, logistics and handling warehousing becomes more complicated. You may need expansions. Moreover, in order to reduce shipping costs and optimize the supply chain, you may need to opt for favorable locations in terms of geography and size.
When opting for warehousing services, make sure you have enough space for your current as well as future needs. It will help you to avoid a shortage of space in the future. Moreover, make sure to pay attention to the change in sales trends over time. It will help you monitor where your orders are shipped.
Having multiple warehouses in different regions can help you offer expedited shipping and affordable 2-day shipping. Choose a warehouse that has connections with the best shipping services. It will help you to provide fast delivery options to your customers. For instance, Fulfillment Hub USA is partner with the most reliable shippers making it easy to provide expedited shipping. We believe in making warehousing a hassle-free experience for our valuable clients. So, we offer our services at affordable pricing.
Technology Used in Warehouse Management
No matter whether you decide to outsource your warehousing and supply chain management or manage your own warehouse, a top-notch technology is profoundly essential. Fulfillment software helps to automate the process of fulfillment while bringing shipments, orders, logistics centers, inventory levels, and customers together in one place.
At Fulfillment Hub USA, they use 5-in-1 cloud-based software solutions to manage inventory, orders, shipping, and warehouse efficiently. They can integrate seamlessly with any of your sales channels.
Additional Services
If you need additional services for your business other than conventional pick, pack, and ship operations, make sure to opt for warehousing services that can handle your needs. At Fulfillment Hub USA, they offer value-added services like kitting and assembly, refrigeration services, B2B orders, cross-docking, and much more to offer a hassle-free warehousing experience.
Get the Best Warehousing Solutions from Fulfillment Hub USA
Warehousing plays an essential role in every business that is involved in selling products. Therefore, it is essential to choose the right warehousing solution that can help you meet customer demands, save money, and manage smooth inventory functioning.
If you do not want to manage your own warehouse, you can opt for a third-party logistics company. In this regard, Fulfillment Hub USA is the best service provider. They not only offer warehousing services but also provide value-added services like kitting, cross-docking, and much more. For more information feel free to contact us.
Warehousing – Frequently Asked Questions
What is warehousing?
Warehousing refers to the process of storing goods before further distributing or selling them. Warehouses are the best place to safely secure products in an organized manner so that you can easily track them. You can effortlessly locate the location of the items, and how much quantity is present in hand.
What are the different types of warehouses?
All the warehouses are not the same. Some are used only for inventory storage. Different types of warehouses include public warehouses, private warehouses, smart warehouses, distribution centers, and cooperative warehouses.
What are the main functions of warehousing?
The primary functions of warehousing include; storing and managing inventory, overseeing staff, equipment, security, and safety, and relationships with the best shipping carriers.
What are warehousing and logistics?
Warehousing and logistics include the process of receiving and storing inventory properly and cost-effectively. It helps to fulfill and ship the products without slowing down and impacting the supply chain.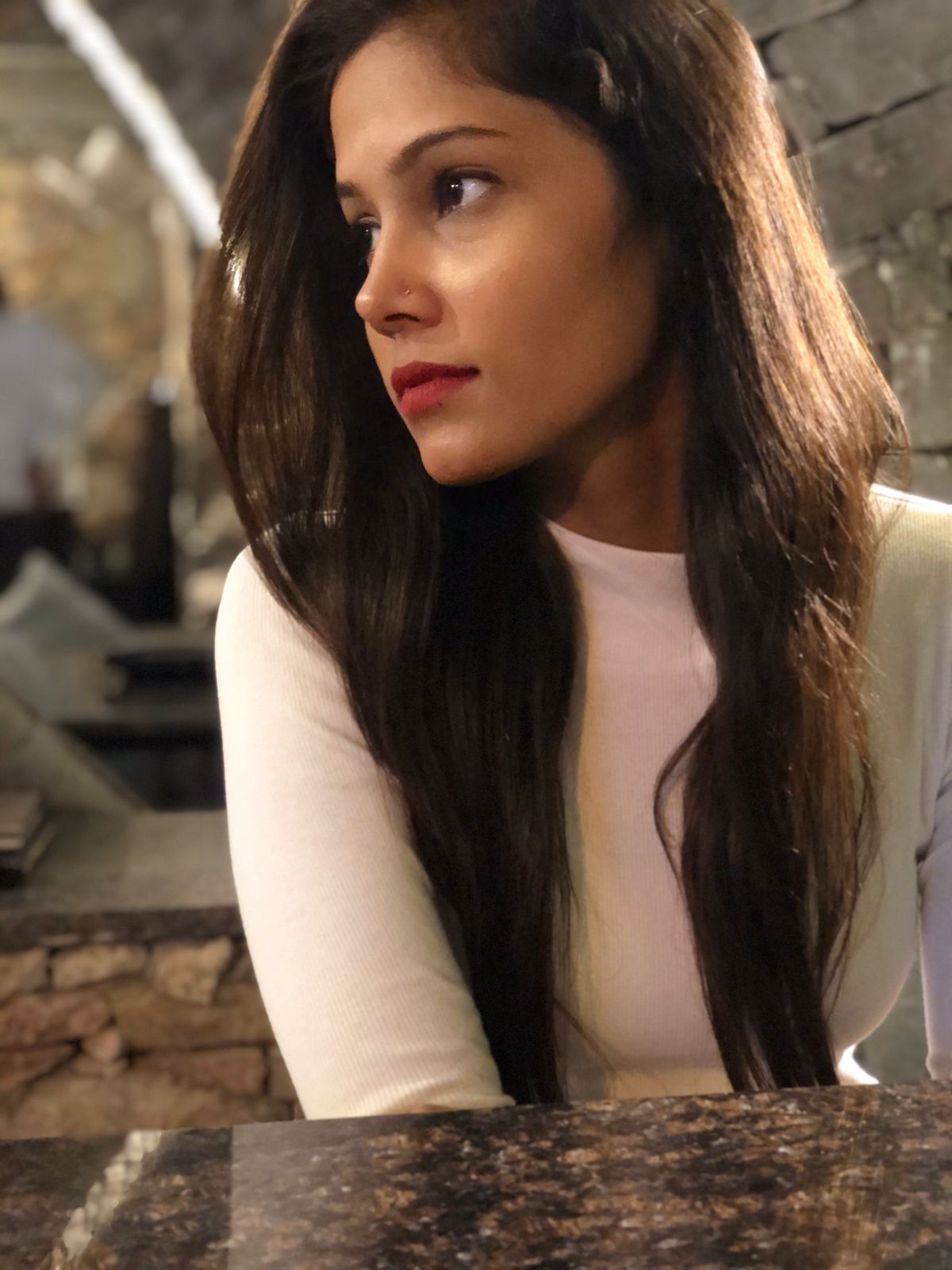 She is an enthusiastic writer with command over persuasive and engaging content. She has more than 3 years of experience in content writing having expertise in both B2B and B2C blogs, websites, and social media content. Other than writing she enjoys music, reading, and exploring new places.