Drop Shipping is a popular term nowadays due to the ever-expanding internet era. Yet, a few people are familiar with it. If you are looking to start an online business, then the drop shipping process can be a little intimidating because of the misinformation and less information world we are in.
So, what we can do? Well, here's the solution: An article to help you understand the ins and outs of drop shipping, how to start a drop shipping business, and if this is the right business model for you. Let's dive right into it!
Drop ship easily, affordably, and rapidly around the globe.
Nuts and Bolts of Drop Shipping
How good it feels to have only fewer responsibilities in managing and running a business successfully, right? This is how it is in drop shipping. There are few responsibilities for you as a seller. You are not accountable for managing inventory, owning a warehouse space, and even for shipping the products yourself. All these make drop shipping sounds like less effort, get a quick rich idea.
This makes it more challenging because a lot of people are into it. Amazon reported that 34% of all the third-party sellers in the marketplace are drop shippers. And this number is continuously increasing. Hence, if you want to make your drop shipping business a success, you must understand the ins and outs of it.
What is Drop Shipping?
Drop shipping is a type of fulfillment process. In it, the seller sells the products directly to the customers but process their order and ships it indirectly. The seller or the business owner doesn't keep the inventory with them; they hire a third-party supplier or manufacturer to process the product delivery along with inventory and warehouse management. As a result, the seller doesn't have to handle the product directly.
Drop Shipping Process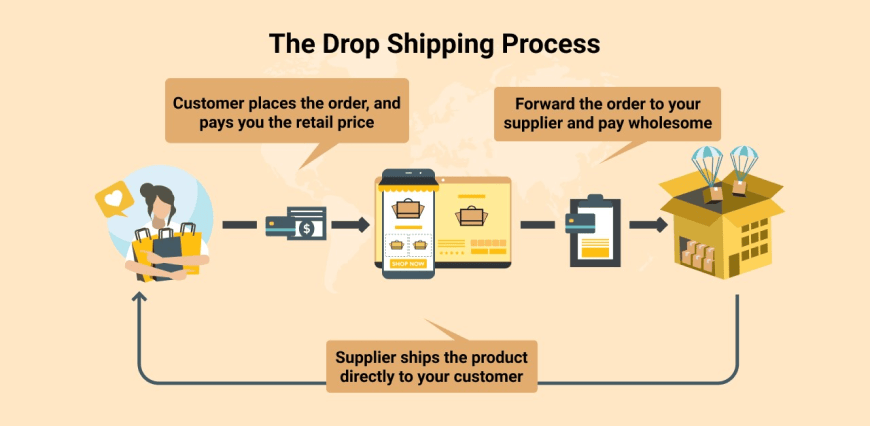 In broader sense, the drop shipping process is a simple process. This is how it works:
The customer places an order to the business' online store.
The store owner receives the order and forwards it either manually or automatically to the supplier or manufacturer.
The supplier then picks, packs, and ships the order directly to the customer with the business owner's name.
For this type of business model, all you need is a laptop and internet. There is no need to have a warehouse space to store and manage inventory.
Note: There are various businesses that have a physical store (or warehouse) and use drop shipping for some products to save on space and resources.
Benefits of Drop shipping

Drop shipping does sound like an interesting idea because of the perks it offers. As a business model, it has many benefits. Here are some of them:
Less Investment
Unlike traditional retail business where you have to buy the inventory upfront, drop shipping allows you to wait for the order and payment from the customer before purchasing anything. Thus, it is possible to launch your drop shipping business with very little money and zero significant up-front inventory investments.
Easy to Set Up
Drop shipping is simple to set up. All you need is a reliable supplier, a well-designed user-friendly website, and the zeal to start selling. To someone who is new to the eCommerce business, this model is relatively easy to implement.
Low Overhead
Your overhead expenses are quite low in drop shipping because you don't need to purchase inventory or manage a warehouse. In fact, there are many drop shipping businesses that are home-based. However, as you grow, the cost might increase but any way will be less than traditional brick-and-mortar businesses.
Location Flexibility
A drop shipping business has the advantage of location flexibility. As long as you can communicate with suppliers and customers easily, you can run your business from anywhere. The only requirement for this is a stable internet connection.
Wide Range of Products
You can always offer a wide range of products to your customers because you don't have to stock anything. As soon as your supplier adds a new product, you can list it for sale at no additional cost.
Easier to scale
When you are outsourcing your order-fulfillment and inventory management, you have less work which means enough time to scale your business. Businesses that utilize drop shipping model scale more relative to traditional eCommerce companies.
Less to Zero Risk
In drop shipping, if your business doesn't sell anything, you still don't lose anything. There is no pressure about inventory getting wasted.
Drawbacks of Drop Shipping

So far, drop shipping sounds like a profitable idea. However, the responsibilities are less, the challenges aren't. The struggle begins with finding a reliable drop shipping supplier and make a win-win agreement with them. Let's figure out others one by one.
Highly Competitive
The benefits and attractiveness of drop shipping business model means more and more people in every segment and niche. To prevent this high competition, you must decide on an extremely specific niche.
Limited Customization and No USP
Unlike print on demand, drop shipping doesn't give the space for a unique selling point. You are only selling the products already existing in the market, and customer satisfaction is linked to the details like personalized packaging and branding. Some suppliers may will to go extra mile for you, but it will increase your cost. Hence, setting up a unique brand image with drop shipping is difficult.
Insufficient Quality Control
The control of the supply chain is with the manufacturers. If they receive a defective or damaged good and pass it on to your customers due to human errors, it will hamper your brand image. When you are out of the process of sending the goods to the customers, you can't assure the quality of the product and service your customers are getting.
Unfortunately, there is no way to prevent this from happening. However, you can set up an agreement with the supplier for broken or damaged product cases. In case, there is an increase in damaged goods being delivered to customers, reconsider your partnership because selling at the cost of brand image is not worth it.
Narrow Margins
When you order in bulk, suppliers offer discounts to you. However, for single or small quantity, there is less chance of getting any discounts from manufacturers and suppliers. This leads to reduced profit margins for you
Out of Stock
If your customer orders a product that is displayed as available at your site and is out of stock at the suppliers' then it can be frustrating for you and your consumer. To prevent this, it is best to maintain end-to-end visibility in the supply chain and have defined procedures for situations like refunds and replacements.
Shipping Complexities
If you are working with multiple suppliers and a customer place an order that you have to source from three different suppliers then you have to bear the shipping charges for all of them. You can't charge your customer in this case because the cost will be too much for them and they might cancel the order. This complexity reduces profit margins for you drastically.
All the drawbacks of drop shipping cannot deny the fact that it is a continuously growing online business model. Additionally, after the initial struggle of setting up, you can set it aside as a good, profitable side hustle.
How to start a drop shipping business in 2021?
Knowing all the pros and cons of drop shipping, you must be wondering 'how to exactly drop ship'. Well, it isn't rocket science, but familiarity with the process is must before you begin your drop shipping store. Let's have a look at the steps to follow to start your drop shipping business.
Select a Niche
It is better to start by selecting a niche. The product range you select should be laser-focused and something you are genuinely interested in. There are tons of products in the market but you can't sell everything and anything. Hence, decide on a niche you won't get bored with and make you profit. A unique product that is not readily available in the market works well.
Research Competitors
A sustainable business niche that doesn't have any competition is difficult to find. Research all competitors in the niche even if it is big giants like Amazon and Walmart. Remember, not to look for a niche that has little to no competition. It can be a sign that the product isn't in demand.
Find a Reliable Drop Shipping Supplier
When you partner with the wrong supplier, you set your business up for failure. So, don't rush this step. Check your potential supplier's response speed, ways of communication, delivery timings, past records, and ask a ton of questions and check if they have the ability to scale with you. Moreover, try to learn from different sources, how to avoid drop shipping mistakes.
This is the most difficult step in the drop shipping process. 84% of eCommerce retailers cite the initial stages of finding and securing a good supplier to be the biggest obstacle to getting their business going.
Build a Website
There are multiple platforms in the market like Shopify that allows you to create an eCommerce website in two to three steps. But remember, they don't allow you full control of it. To prevent this, take help of experts. Hire a dedicated and leading website development company like our subsidiary, AppManufact.
Market It Out
After finding your product and starting your website, market your drop shipping business with everything you've got. You might not have a marketing budget when you are starting out. Hence, make use of all the free ways to promote your business. The best option is social media platforms.
Albeit, you can invest a small amount into Facebook ads, influencer marketing, or retargeting ads because they all are known to generate more leads at a lesser price than traditional marketing methods.
Optimize
Once you have established your business, analyze the results of your hard work. You may find out that certain marketing activities are more profitable than others. Or by adding some new products, your sale increases.
To analyze and optimize accordingly, use tools like Google Search Console or Analytics. They provide detailed insights into your business and can help you optimize your business to increase online revenue.
Is Drop Shipping for You?
Drop shipping is a great business model for first-timers. If you are someone who is trying out eCommerce for the first time, drop shipping is the best low-risk and low-investment way of starting it.
As this business model involves less investment, the already established store owners can also start drop shipping. It is a great way to check the market potential of any product before stocking up in your inventory. Hence, if budget, inexperience, and risk is your concern, opt for drop shipping as there is nothing to lose even if it doesn't work.
To Conclude
In the end, if you ask if drop shipping worth it? The answer is yes and no. Drop shipping is worth it if you are ready to put effort. One reason for drop shipping business failure is a lack of consistency, patience, and perseverance. You must understand that it takes time to find a drop shipping supplier, set up a store, decide on pricing strategy, and start selling. If you don't put efforts, nothing will happen.
Hence, in order to set your business up for success, partner with a 3PL that offers the best-in-class, affordable services in the industry like AppManufact.
Build Your Drop Shipping Empire with Fulfillment Hub USA
If you are looking for a 3PL that helps you reduce costs, increase your network and reach, and is budget-friendly, then Fulfillment Hub USA is the best for you. We provide eCommerce fulfillment at an affordable price. Our team is an expert in handling numerous orders at the same time with the implemented latest tech-driven systems. Fill up this form or contact us at [email protected] or +1 786-622-1102 to get your drop shipping journey started!
FAQs
Is drop shipping profitable?
Yes, drop shipping can be a profitable business model as it incurs less investments and risk. You can earn good profits with the right suppliers.
Is drop shipping legal?
Yes, it is legal to drop ship worldwide. Drop shipping is a legitimate order-fulfillment process.
Is it too late to get into eCommerce?
In simple words: No, it isn't. The eCommerce industry is continuously expanding. Hence, it is worth it.
Is drop shipping passive income?
Yes, drop shipping is one of the most profitable passive income sources you will find online.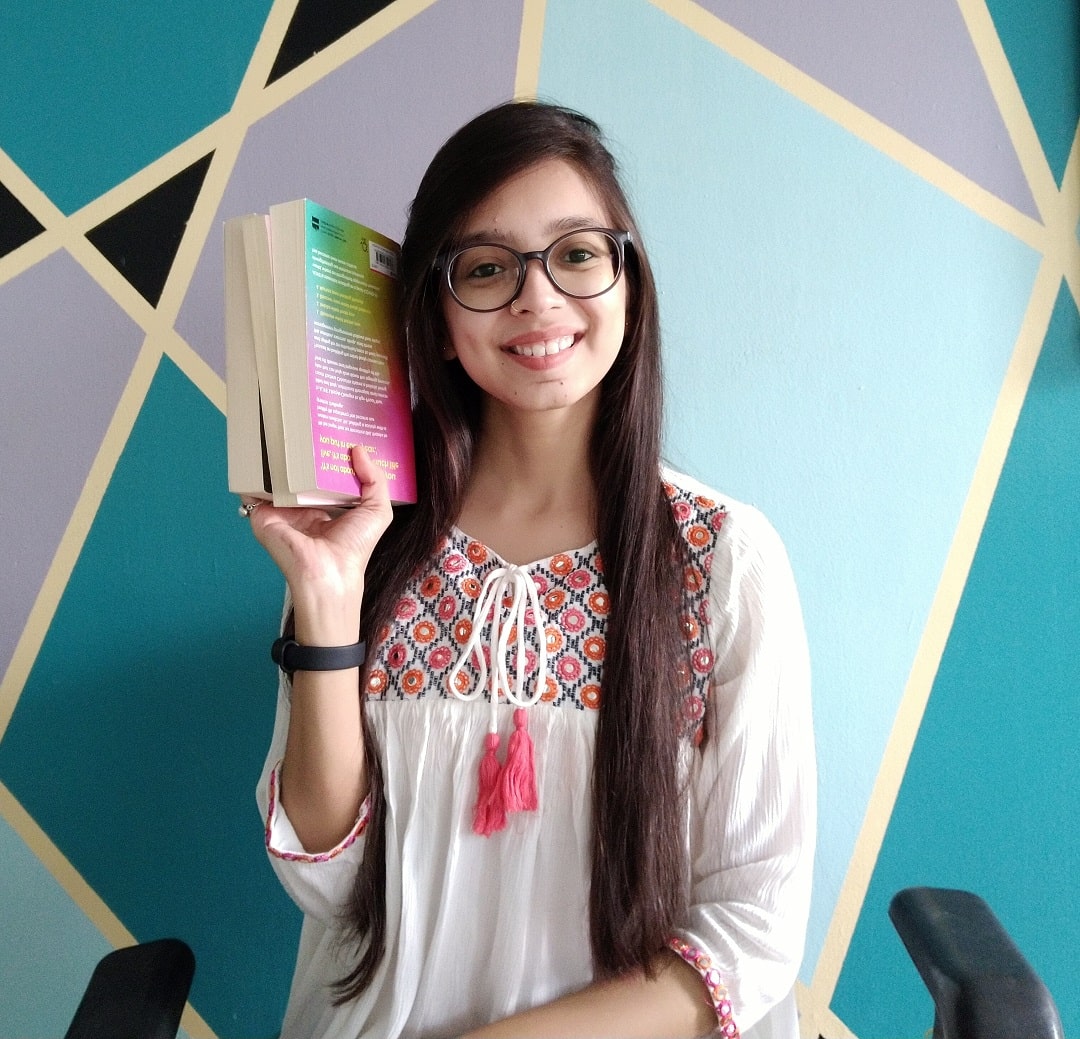 She is an avid reader turned content creator. She has over 4 years of experience in writing B2B and B2C website content, articles, and social media content. She has worked with different types of content; from tweets to full-fledged video scripts and privacy policies. Apart from reading and writing, she connects with plants, travelling, and psychology.