Flat rate shipping is when the shipping cost is independent of the weight of the package. Consumers pay a fixed amount for all the packages that fall under the pre-decided criteria. But how do you decide if flat rate shipping is right for your eCommerce business?
Here's the solution: an article guiding you through the fundamentals of flat rate shipping and if it is the right choice for you. So, let's dive right into it.
Ship Internationally with a Flat Rate at a Low Cost
Ins and Outs of Flat Rate Shipping
Flat rate shipping is a technique for deciding how to price your shipping. When you charge a fixed rate for every order, it becomes easy to track and manage expenses. Whether you fulfill orders in-house or outsource to a 3PL, you can inculcate the flat rate method for your customers.
All major shipping carriers like FedEx, USPS, and UPS, have a different flat-rate shipping program. Opting for the best of them can be a tough choice. But before you decide that, let's understand what the flat rate method is and if you should use it for your eCommerce business or not.
What is Flat Rate Shipping?
Flat rate shipping is a type of shipping where the rate is based on the size of the box. Therefore, any weight can be shipped at the same price, as long as it stays under the box's maximum weight. Hence, in one price slab, you can ship heavy as well as lightweight packages.
Due to the nature of this kind of shipping, it is known as Linear Rate. Irrespective of the weight, size and other dimensions, a linear shipping rate applies to all types of shipping boxes and packages in the same slab. Therefore, shipping heavy parcels are more beneficial than smaller ones in flat rate shipping.
Difference between Flat Rate Shipping and Standard Shipping
The common factor in both of them is that they both are pricing strategies for shipping your orders. But they are different in many ways.
As the name suggests, standard shipping is the general shipping method in which the price is based on destination location and distance, box dimensions, and weight. It is a pricing strategy that is used for longer or un-prioritized deliveries. The delivery time for standard shipping can vary depending on the packages and can be anywhere between 5-15 days.
Flat rate shipping is the type of shipping where the buyer pays a fixed price for any item that ships within a weight slab. It can vary according to different shipping zones. For example, the flat rate may differ according to the location and the zone where the item needs to be shipped. Moreover, there is a predetermined delivery time in the flat rate method that cannot be altered.
Factors affecting Flat rate Shipping Method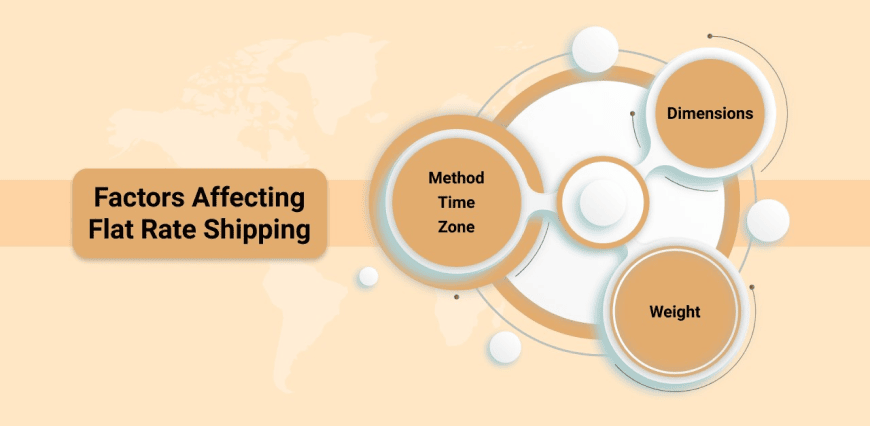 Now that it is clear that flat rate shipping is affected by the weight, time zone, and box dimensions, let's dive into each factor in detail.
Weight
The weight slab is decided by the seller or the shipment companies under which the flat shipping rate is applied. For example, the slab can be set to 50 pounds, as FedEx does. Then, all the boxes or parcels below that weight are eligible for a flat rate. The slab is always set to make matters simple.
Time Zone
One factor that you must consider while providing a flat shipping rate to your customers is time zone. Shipping costs differ with the time zone. If the destination time zone is closer to your location, shipment prices will be lower as well. Conversely, the farther the time zone, the costlier the shipment. Hence, having multiple customers of the same time zone is definitely an advantage for you.
Dimensions
Generally, shipping companies have a fixed size for boxes. This way, they keep the shipping process smooth and consistent. Moreover, they have containers of the specified dimensions. And flat rate method can have a specified dimension or slab to ship the parcels.
Advantages of Flat Rate Shipping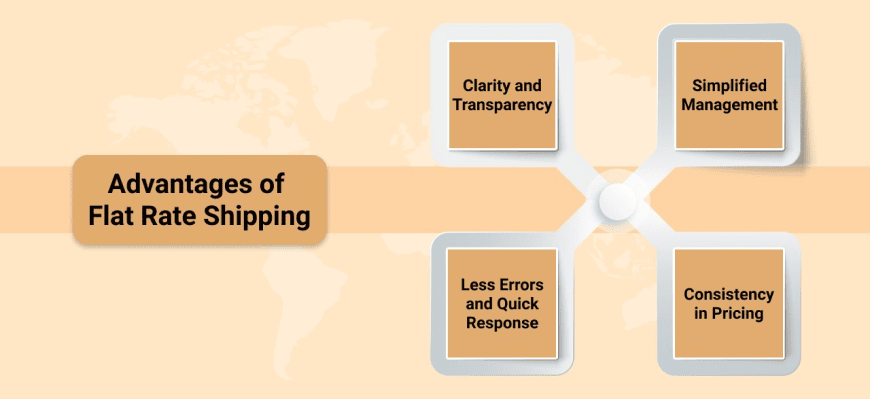 The basis of the flat rate method is that it is ideal for everyone under the same time zone, weight, and dimension slab. So now let's have a look at some advantages of it.
Clarity and Transparency
When you provide flat rate shipping to your customers, it brings them clarity for your selling mechanism. In addition, it establishes transparency in pricing between you and your customer because of the fixed shipping price and no additional or hidden costs. This clarity and transparency help you gain trust among your consumers.
Simplified Management
Smooth management of every process in the business is essential for it to be successful. Unlike standard shipping, you save a lot of time in flat shipping by calculating a pre-defined price for different slabs. Hence, the process in the flat rate method is simplified. Additionally, you don't need to add a shipping calculator to your eCommerce website.
Less Errors and Quick Response
When products are shipped using standard shipping, there are a lot of calculations. Most time is spent calculating shipping costs by measuring tons and tons of boxes' weight and dimensions. Not to forget, this has a probability of human errors. All such errors have less chance to occur in the flat rate method because of a fixed price.
Consistency in Pricing
The one advantage of the flat rate method is consistent pricing. No matter the weight or dimensions of the parcel, it is the exact price under the same slab. Hence, flat rate shipping makes it easy to calculate shipping charges along with saving time and effort. However, before you opt for any logistics partner, check the kind of slabs they have set for different factors.
Should I use Flat Rate Shipping?
Flat rate shipping has many advantages that make it an appealing service for eCommerce businesses. First, you are well aware of the costs when you ship in a flat rate box. Second, there is no need to use the shipping price calculator plugin on your website because of the fixed price. Hence, to save time on shipping calculations, the flat rate method is one of the best choices.
For small businesses, the flat rate method can generate huge savings because of the lower, predictable cost. Of course, it doesn't make sense for every eCommerce business to use flat rate shipping because of different operating methods, but often, small business owners find it profitable.
Therefore, if you are starting out and find the flat rate method to be profitable for your business, then it's time you start implementing this pricing strategy.
Does Flat Rate Shipping save you money?
It depends. You might save money in flat rate shipping when:
You charge your customers a fixed rate for shipping.
Your products are relatively small and heavy.
You don't ship many orders and own your order-fulfillment process.
Saving money becomes easy with low order volume. However, once you grow enough to outsource your eCommerce fulfillment, you need a full-fledged fulfillment strategy. You can save by placing your products in multiple warehouses at different locations. This puts you closer to your customers and saves you shipping costs.
The best way to do this is to tie up with a 3PL company like Fulfillment Hub USA that has strategically placed its warehouses at multiple locations to save on shipping costs.
To Wind Up
Flat rate shipping has its pros and cons. However, when you are starting with a low-order volume, it is one of the best options for you. Before opting for any strategy for your eCommerce business, compare different flat shipping rates with standard rates, and consider talking to our industry experts.
Save Money with Fulfillment Hub USA
We are the leaders in the industry, with the largest warehouse in South Florida and multiple warehouses at different locations. They are strategically placed to reduce your shipping cost and save you money. In addition, we are tech-driven, with industry experts managing every process keenly.
When you connect with us for your business, our team guides you to scale your business and equips you with the best possible solution at an affordable price. Contact them today at https://fulfillmenthubusa.com/ or +1 786-622-1102 and get your eCommerce journey started.
FAQs
Is flat rate shipping cheaper?
It depends on the type of products and the volume of monthly orders you have. However, the flat rate method is easier to budget and predictable.
How long does Flat Rate Shipping take?
The typical delivery time can vary from 5 to 15 days. Further, it depends on the different companies. For example, USPS Priority Mail takes 2-3 business days to deliver during non-peak seasons.
Can you use your box for Flat Rate Shipping?
Generally, shipment companies require you to use their packaging for the flat rate method. However, some companies like UPS allow you to use your packaging.
What is free flat rate shipping?
In free flat rate shipping, you don't charge consumers for shipments. This is a great way to attract shoppers and is cost-effective when you offer it in exchange for a minimum amount spent. In addition, this pricing strategy preserves your margin while increasing your average order value.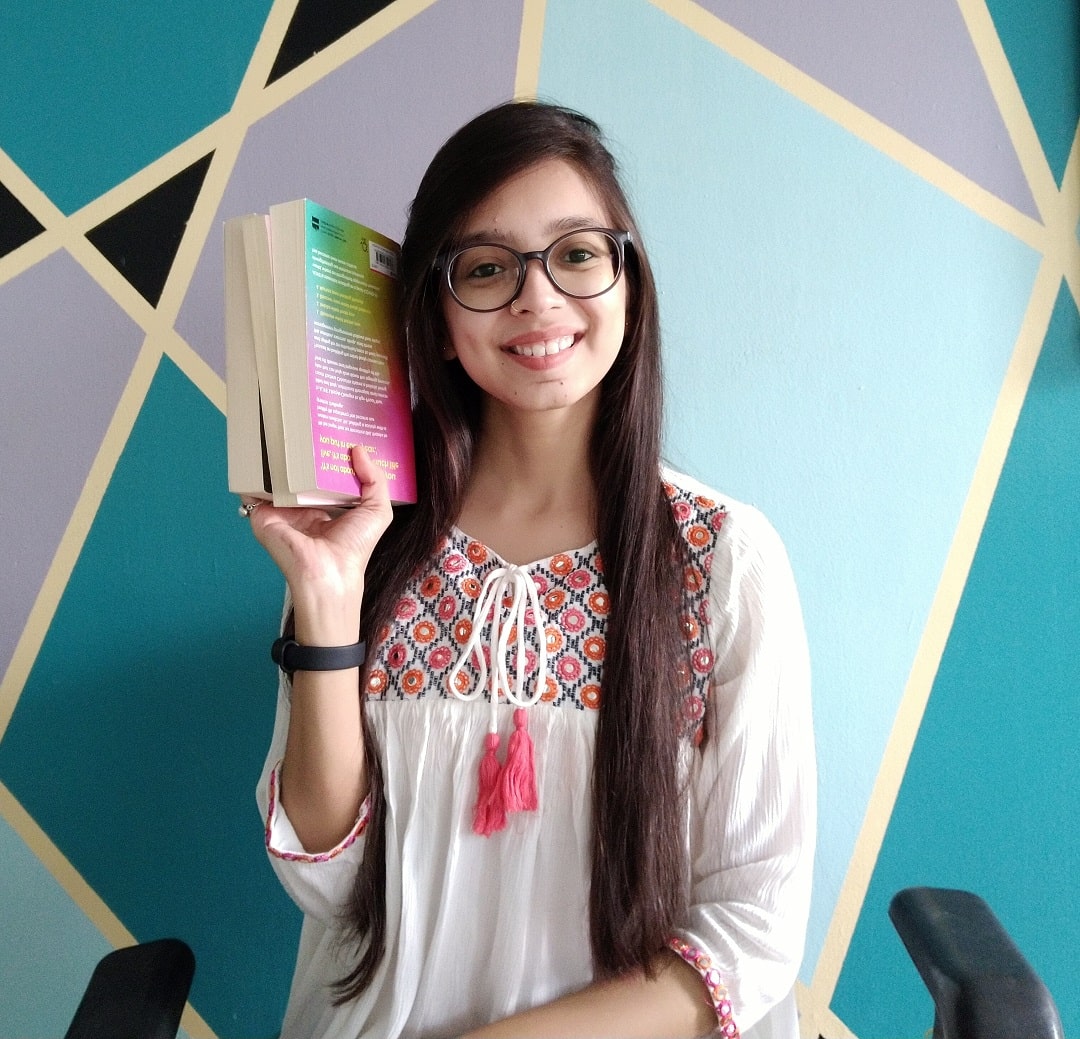 She is an avid reader turned content creator. She has over 4 years of experience in writing B2B and B2C website content, articles, and social media content. She has worked with different types of content; from tweets to full-fledged video scripts and privacy policies. Apart from reading and writing, she connects with plants, travelling, and psychology.