Bill Gates once said, "If your business is not on the internet, then your business will be out of business."
The trend of online business is wide-spreading. eCommerce is one of the fastest-growing industries among many online businesses because of its benefits. You can start an eCommerce business at a low cost and still reach a wider audience around the globe. It is available 24/7 for your consumers, and targeting the right audience is easy compared to brick-and-mortar stores.
If you are a seller, it is the right time to jump into the eCommerce pool of opportunities. To help you, we've put up a comprehensive, step-by-step guide to set up your eCommerce business from scratch and turn it into a profitable business. So, let's dive right into it.
What are you waiting for?
Launch your successful eCommerce business today.
Nuts and Bolts of eCommerce Business
Starting an eCommerce business is highly beneficial. It is easily scalable and flexible. According to Statista, the retail eCommerce sales worldwide are expected to grow from $3,354 billion in 2019 to $5,424 billion in 2022. Hence, it is the right time to jump into the eCommerce pool of opportunities.
A Step-by-Step Guide to Start an eCommerce Business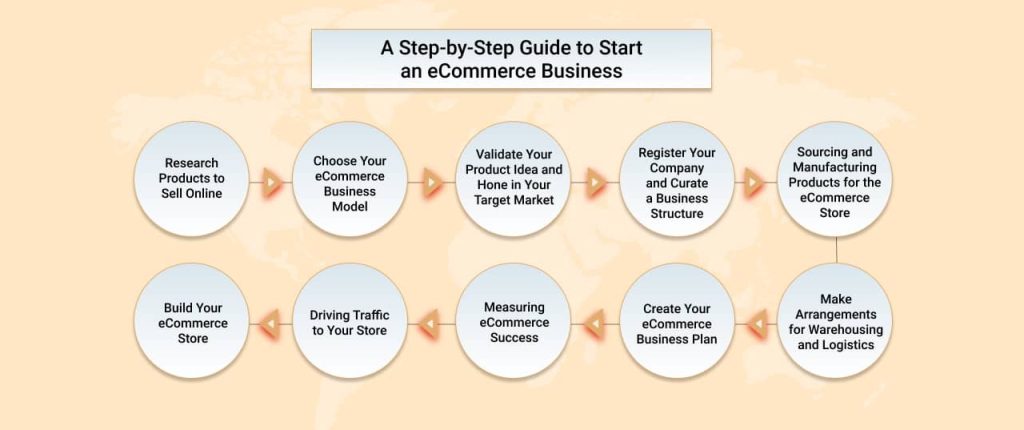 1. Research Products to Sell Online
Niche Products are highly specific for a consumer base. When you sell niche products, you focus on one high-quality item instead of selling hundreds of different products.
Niche products are highly desirable and exclusive. They can be one-of-a-kind as well like, handmade items. The price of niche products is inelastic and usually has quite high-profit margins and less competition.
Commoditized Products
In simple terms, commoditized products are the things everyone needs. It has a broad consumer base with the majority of B2C eCommerce sales. All kinds of products are commoditized: software programs, clothes, kids' toys, sneakers, saucepans, chargers, sneakers, notebooks – you name it.
Generally, commoditization starts with one innovative product that becomes popular and other companies imitate it.
When you find the product to sell, look for competitors in the same field. If you feel it is a crowded space, jump to the next best product, and then next till you find a less competitive field with a profitable product.
2. Choose Your eCommerce Business Model

Once you have decided on your product, you must decide on whom you want to sell it. There are four main business models you can choose from, for your eCommerce store; business to business (B2B), business to consumer (B2C), consumer to business (C2B), and consumer to consumer (C2C).
Business models define the structure of your company, while revenue models define the company's revenue streams. Therefore, the revenue model is a vital part of the business model.
There are different types of revenue models such as direct-to-consumer (D2C), drop shipping, subscription services, wholesaling, white-label, private-label, and fulfillment by Amazon (FBA).
Decide your business and revenue model to set up the foundation for your eCommerce business.
3. Validate Your Product Idea and Hone In Your Target Market
Now that you have a product idea, it is vital to perform market research to validate it. This helps in building marketing strategies and buyer personas. Let's look at the way to do it.
Market Research
Research sounds like a job for a specialist. Of course, you can hire a professional if you want, but it isn't too difficult to do it yourself. Here are two simple ways to do it:
Conduct Consumer Surveys. Ask people the kind of information you need for your product/service.
Interview Consumers. If you can arrange interviews with a few of your survey participants, do it because it helps you gather information in a detailed way.
Create Buyer Personas
With the information you have gathered from surveys and interviews, you can now easily create your ideal buyer. Creating a buyers' persona makes marketing easier. Your buyers' persona can be as simple or complex as you want. However, it has to be practical, relevant, and tactical.
4. Register your company and curate a business structure
You need to register your business and create a reliable structure to get started. There are different ways to register your company; sole proprietorship, partnership, corporation, non-profit, and limited liability company.
Every structure has its own set of criteria. You should opt for the one that matches with your business. Some structures among the mentioned ones can be complex to implement and hence, it is suggested to hire a business counselor or an attorney to help you decide and register.
After setting up your business structure, start branding your business and products. If you want to learn about branding in detail, read this blog.
5. Sourcing and Manufacturing Products for the eCommerce Store
After deciding on the business structure, it's time to figure out the way to source the products. Here are four main ways to source your products:
DIY Products or Services
When you make and sell products, you have complete control over the production process. However, you put up a lot of time into it. If you opt for this way, make sure you have a reliable supply chain for source materials, warehousing space, and rapid delivery methods.
Drop-Shipping
Drop shipping is a quick and easy business model. It saves you time and money on warehouse management, shipping, production, and more. This business model is effective for beginners. However, it has lower profit margins.
Wholesaler
Wholesalers, as we have already seen, sell goods in bulk. You can tie up with a wholesaler for generic goods and resell them with your branding to the consumers. With wholesalers, you save time and money.
Manufacturer
You can hire a manufacturer when you want to scale up your DIY business or create a new branded product altogether. Manufacturers take care of the complete development process, saving you time.
Many online sellers combine the methods mentioned above to streamline the income stream. Choose one model or create a hybrid; opt for the one that suits you the best.
6. Make Arrangements for Warehousing and Logistics
After you have sourced your products, it's time to arrange them. But where? You need warehousing space. Afterward, you need a warehouse management system to streamline everything. Then, you need to figure out a way to ship rapidly and affordably. For this, you need to find a reliable shipping partner. And ultimately, you need a proper system to handle returns.
Well, all these seem like a lot of work and overwhelming, but you have to do it for a successful eCommerce business. You can do it in two ways: in-house and outsourcing. When you do everything in-house, you are responsible for every task. Whereas when you outsource your business to third-party logistics, you outsource your worries of handling inventory and managing shipment and returns to them.
Third-party logistics (3PL) help you excel your business in many ways. They have a network of other businesses that might help you in your business. Moreover, they tie-up with multiple shipping carriers and get huge discounts due to high order volume. In addition, 3PLs are well-equipped with the latest technologies to get the work done accurately and on time.
Hence, if you can find a budget-friendly third-party fulfillment center, partner with them for your eCommerce business growth. On the other hand, if hiring a 3PL is out of your budget, start by learning the ins and outs of the logistics and warehousing industry and find actionable solutions to smoothen the supply chain process.
7. Create Your eCommerce Business Plan
After researching and setting up the base, it's time to develop a business plan. It is a roadmap that helps you determine the priorities and decide the route of the company with its objectives. Writing a business plan can help you with:
Finding the resources, you need to run a business
Capture opportunities in the marketplace
Identify your target audience
List out competitors and what they are up to
Chart out the company's potential future
Clearly defining your business idea, goals, products, services, target audience, sales channels, and monetization strategy help you establish a firm base to move further. There are different ways to curate a business plan. You can opt for one that suits you the best or hire a professional to do it.
8. Build Your eCommerce Store
You have validated your product ideas, registered your company, written a business plan, now it's finally time to build your website. Many sellers use website-building tools and already-existing eCommerce platforms to proceed further. This helps in gaining an audience but not building an authentic brand image. To create a brand image, owning a website is the solution.
However, building a successful eCommerce website, either way, is a challenging task. To overcome this, take guidance from the experts. Our subsidiary, AppManufact, is an expert in building websites, apps, and software that yield results. The team is well-versed in providing strategic solutions and an excellent online experience for your customers. Contact them today to know more.
9. Driving Traffic to Your Online Store
After launching your website, the challenge to drive traffic to your store begins. Here are some paid and free marketing tactics to help you get through it.
Organic Marketing Channels
Organic marketing channels are the best way to get the strongest long-term return on investment. A few of the best tactics include SEO, content marketing, social media engagement, link building (off-page SEO), and e-mail marketing.
Paid Marketing Channels
Paid marketing tactics are the solution if you want to see quick results. Some of the top paid marketing channels for your eCommerce store are affiliate marketing, influencer marketing, pay-per-click (PPC) advertising, and social media ads. The ROI is high on affiliate marketing, and that is an exception. The other methods have low ROI than organic methods.
The most effective strategy is to use the combination of different channels to suit your business requirements and capture consumers while generating conversions.
10. Measuring eCommerce Success
With the help of analytics, it becomes easy to see how website visitors are interacting with your store and products. It also helps you understand how visitors reach your site and what they do when they get there. These insights provide you with an overview of your conversion rates and sales.
Use data you gain from analytics to optimize your store pages, product description, navigation, and content. You can view analytics on Google Analytics, Facebook Insights, and your e-mail provider if you use that service. Some key performance indicators to note are reach, e-mail click-throughs, social media engagement, average order volume, bounce rate, and shopping cart abandonment rate.
Keep track of all the key performance indicators and take action to maintain them to drive more sales.
ECommerce Business In a Nutshell
The eCommerce business demands dedication, hard work, and determination. It also needs a good product in a growing niche, a neat business plan, proper warehousing and logistics solution, the right eCommerce website, and a well-researched marketing strategy. This seems like a lot. However, following the above-mentioned step-by-step guide will make it easier for you.
Jump-Start Your eCommerce Journey with Fulfillment Hub USA
Fulfillment Hub USA is your tech-driven partner in scaling your eCommerce business. We are well-equipped to make your order fulfillment process better and faster. Moreover, our network with shipping carriers helps us get huge discounts on shipping which we trickle down for you.
We have the largest fulfillment center in South Florida, with our team being the experts in the industry. They guide you through each process and ensure you and your customer have a smooth experience with us. So contact us today to get your eCommerce journey started!
FAQs about eCommerce Business
Is it too late to start an eCommerce business?
No, it's not too late to start an eCommerce business. The industry is continuously growing and is highly likely to grow more in the upcoming years.
Is eCommerce profitable?
Yes, the eCommerce industry is profitable. However, it is a marathon, not a sprint. Hence, it takes time to grow and establish.
What are the different types of eCommerce?
There are four eCommerce business models: Business to Consumer (B2C), Business to Business (B2B), Consumer to Business (C2B), and Consumer to Consumer (C2C).
Is outsourcing eCommerce worth it?
Yes, outsourcing your eCommerce business to a 3PL is worth it. You get the advanced technology, security, warehousing space, customer support, inventory management, and guidance at a nominal cost compared to in-house fulfillment.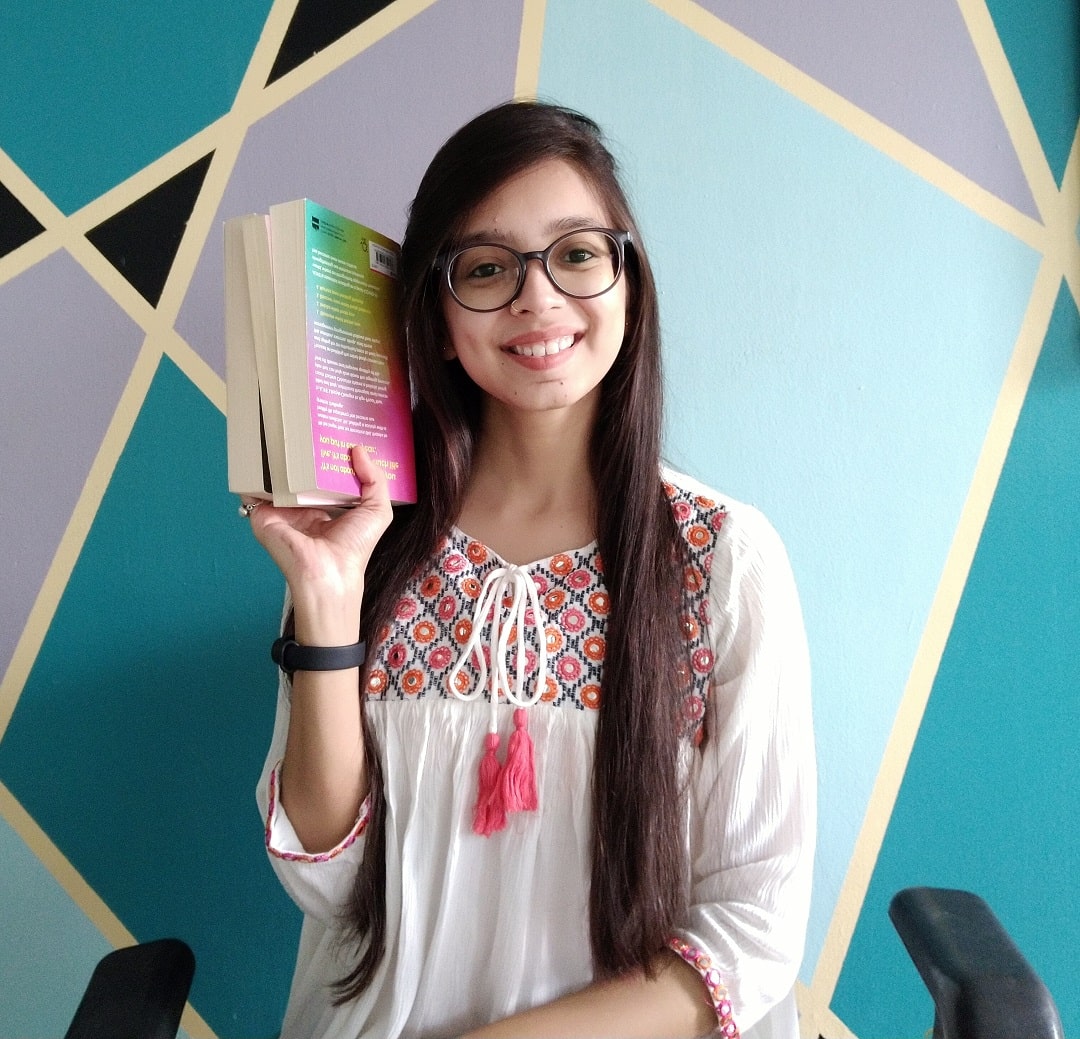 She is an avid reader turned content creator. She has over 4 years of experience in writing B2B and B2C website content, articles, and social media content. She has worked with different types of content; from tweets to full-fledged video scripts and privacy policies. Apart from reading and writing, she connects with plants, travelling, and psychology.